Bugbase generates a monthly chemical usage report for each registered county.

If a report is missing for a county, it is either not entered into the system or it may not be set as Active.
To add to or edit your county list in Bugbase, go to: Administrator > Locations > Counties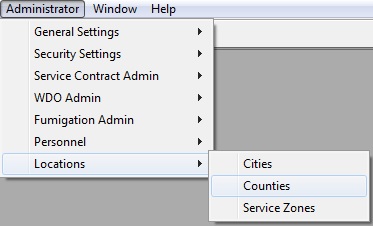 In the Counties window, click on the blue arrow button to the right of the County ID text box to see all of the counties in the system. To open and edit a county, select it from the list and click OK.

To create a new county in the system you will need to enter in the County ID code (see below for full list) and the County Name. Mark the checkbox next to Active to be able to generate monthly chemical reports for that county even if no chemicals were applied during a given month. Click Save at the top when finished (located just underneath the Administrator menu option).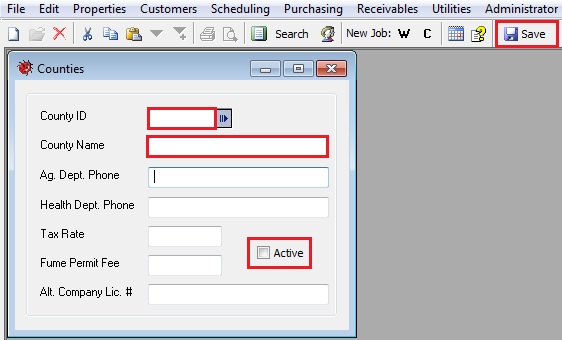 List of California county codes:
01 – Alameda
02 – Alpine
03 – Amador
04 – Butte
05 – Calaveras
06 – Colusa
07 – Contra Costa
08 – Del Norte
09 – El Dorado
10 – Fresno
11 – Glenn
12 – Humboldt
13 – Imperial
14 – Inyo
15 – Kern
16 – Kings
17 – Lake
18 – Lassen
19 – Los Angeles
20 – Madera
21 – Marin
22 – Mariposa
23 – Mendocino
24 – Merced
25 – Modoc
26 – Mono
27 – Monterey
28 – Napa
29 – Nevada
30 – Orange
31 – Placer
32 – Plumas
33 – Riverside
34 – Sacramento
35 – San Benito
36 – San Bernardino
37 – San Diego
38 – San Francisco
39 – San Joaquin
40 – San Luis Obispo
41 – San Mateo
42 – Santa Barbara
43 – Santa Clara
44 – Santa Cruz
45 – Shasta
46 – Sierra
47 – Siskiyou
48 – Solano
49 – Sonoma
50 – Stanislaus
51 – Sutter
52 – Tehama
53 – Trinity
54 – Tulare
55 – Tuolumne
56 – Ventura
57 – Yolo
58 – Yuba